Anime has always been one of the most popular forms of entertainment in the whole world ever since the day it was created. Due to a multitude of new and exciting shows appearing one after another, the popularity of this form of entertainment has never gone down. As a result, right now the fandom of anime, in general, can only be described as humongous. The number of people becoming fans is increasing with each day passing by. However, along with the undeniable popularity that this number brings forth, there is also the pressing issue of diversity. In truth, due to the fandom being so huge, it has become quite clear that there is no single anime show that can satisfy the taste of all people.
Thus, it has become quite natural that the anime fandom is currently quite split-up with each portion liking a completely different genre. Consequently, the products that are inspired by anime shows will become quite varied. In addition, due to the burst of popularity that anime has been receiving, the stores selling these kinds of products have been popping up like mushrooms after a rain. Thus, if you are a newbie, there is no way that you can find an anime product that you like. This is why I will introduce you to this list of the Beat The Cold With 10 Hottest Anime & Manga Sweaters in 2023.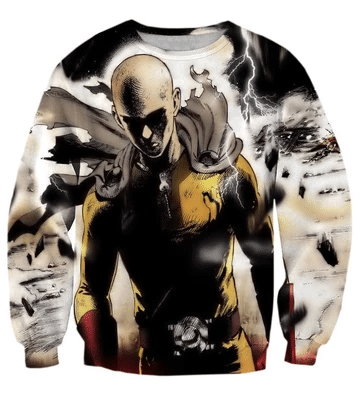 It is only natural that the first one in the list will be inspired by the One-Punch Man anime series. After all, we all know that Saitama will not fear the cold at all due to his incredibly strong muscles. In addition, this product is actually quite a great purchase outside of its artistic values. Made from some quite high-quality materials, you can be sure that the product will not tear or break under any normal circumstance. However, that is not all, as you will also look quite cool wearing it.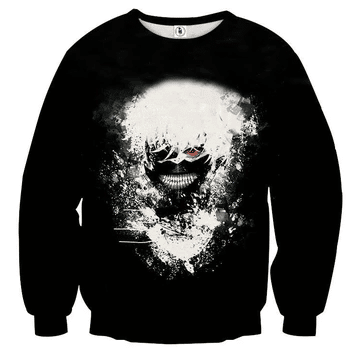 If you are a fan of Kaneki in particular and Tokyo Ghoul in general, there is no way that you can overlook this great purchase. The Tokyo Ghoul Anime Fashionable Design Vibrant Print Sweatshirt will actually make you look quite menacing, just like Kaneki himself. With an all-black with a little white and red color scheme, the product gives out quite a mysterious and dangerous aura. However, that is not all, as its value as a purchase is also quite high. Due to being made from some special sublimation technique, the color will not go out easily.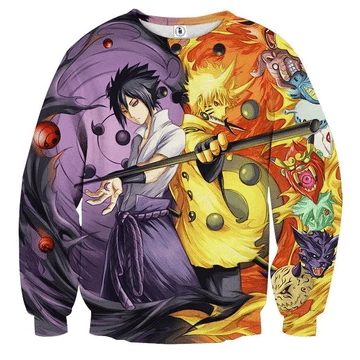 There is no way that the two main characters of Naruto do not make an appearance on this list. After all, they are some of the most popular characters in the history of manga as well as anime! This Naruto Sasuke Power Jinchuuriki Sharingan Pattern Sweatshirt perfectly inherited what they represent as individuals. Thus, it is divided into two clear parts, just like the personalities of Naruto and Sasuke. Of course, the product does not just have artistic value, as it can actually keep you quite warm due to its high-quality materials.
As Pokemon Go has successfully become one of the most popular games there are on the mobile game market, the products inspired by it have also increased hugely. This Pokemon Go Cute Zenigame Squirtle Use Surf HM03 Blue 3D Sweatshirt is one such example. Due to being made from high-quality materials such as cotton as well as polyester spandex blend, this sweatshirt can actually keep you quite warm. Of course, you will also not have to worry about it being torn or damaged easily.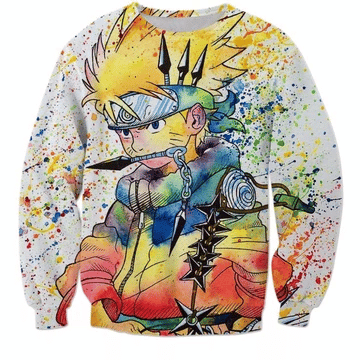 Due to the immense popularity that Naruto has been receiving even after it has ended, it is only natural that there would be more than one product being inspired by it on this list. However, this Unique Naruto Painting Graffiti Style Full Print 3D Sweatshirt is not a cheap knock-off. It is completely stitched from cotton and polyester spandex blend. Thus, you will be kept quite warm when you wear it. In addition, the product can also serve as cool streetwear.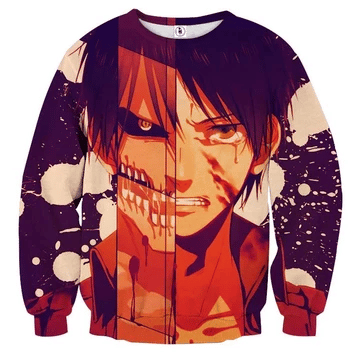 As you must be aware of, Attack on Titan instantly became one of the most loved anime shows in the history of the scene right at the moment it was introduced. People love this bloody tragedy of people trying their best to survive against an entire race of man-eating titans. Thus, I am quite sure that this Attack On Titan Eren Two Faces Dope Style 3D Print Sweatshirt will be well-received. After all, it has the main character as well as his titan form stitched on. In addition, the sweatshirt is indeed a durable and flexible product thanks to its great materials.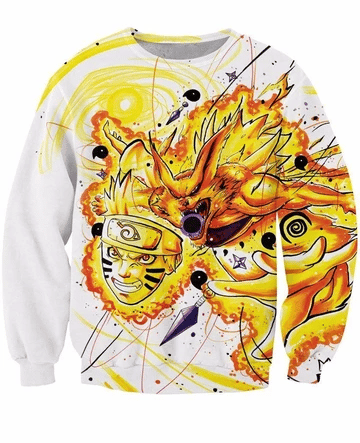 If we talk about Naruto, there is no way that we can forget about Kurama, the Nine-tailed Fox. There is no one in the world that has spent as much time as he does together with our main character. No one can understand better about Naruto than him. Thus, I am confident that he has quite a lot of fans and this Naruto Anime Kyuubi Mode Graffiti Art Painting Dope 3D Sweatshirt will be well-received. After all, it is also quite great when we talk about the actual value.
How about we show some loves to the most dangerous villains ever in the Dragon Ball series? This Usual Suspects Dragon Ball Z Wanted Vintage Sweatshirt has all of the most memorable as well as the most dangerous of villains in the Dragon Ball Z saga in one place. That's not all, it also dresses them all up as your usual thugs, making it quite hilarious! Of course, the sweatshirt can also keep you quite warm through the coldness of winter due to the high-quality materials it was made from.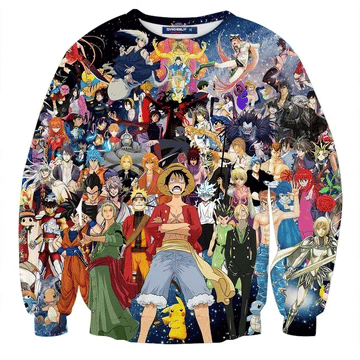 In the case of you not being a clear fan of any single anime show, I present this Japanese Anime Mix One Piece DBZ Pokemon Death Note Sweatshirt. Having almost all of the most popular characters to ever be created in the history of manga as well as anime on it, this sweatshirt can surely satisfy even the hardest of customers. However, that does not mean that the product is only good artistically. After all, it was indeed made from some great materials, so you can be sure of the quality.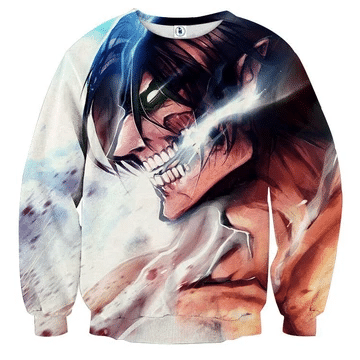 If you have seen at least once the Attack on Titan anime, then I am sure that you know just how cool Eren is in his Titan form. That is the basis of me bringing this Attack On Titan Eren The Founding Titan Dope Style Sweatshirt into the list. After all, I am quite confident that even the pickiest of clients will not be able to turn down this dope-looking sweatshirt. Furthermore, due to it being stitched up from some high-quality fabrics, you can cease to worry about the quality of this sweatshirt.