Christmas comes with joy and happiness but some parts of it could be a head-aching issue to many of us – Yes, it's about choosing the right and meaningful gift for this event.
If You, your beloved one, friends, or family members are fans of the amazing world of Manga and Anime – Now! Take a deep breath since we will take you to a gift list that will be a dream of any fan.
Let's go and find the right gift this Christmas!
In the era of smart devices and technology, a watch is not just for time tracking anymore. But sometimes we got too much attention in function but we forgot about the style.
With the design of the pocket watch, and the perfect cross-over with one of the most favorable manga theme – Naruto. There's no word but "Wonderful" to describe how much a fan will love this gift.
This watch won't notify Facebook Message or Calculating how much calories you burn today but it's unique design raise you to the whole next stage of being special.
My Neighbor Totoro Plush Cute Winter Beanie Hat & Long Mittens Gloves
What is the most expected gift during the harsh cold day of Christmas? A warm embrace and firm hand-holding, indeed!
But how to give your beloved one those precious gestures when you are away? A cute Totoro beanie would be a great choice – and it's even greater when it comes to the long mitten Gloves.
This Christmas gift will definitely not only keep her hands but also her heart warm with your love!
The hoodie was and always is the very first idea popped up in your mind when it comes to Christmas gift – Why not? It's cool, fashion and keeps you away from the coldness.
And if you still wondering what design of hoodie you should give to a One Piece Fan – Here's your answer. The amazing concept between Luffy and modern fashion trends. 
Anyone who has this hoodie as a gift will feel they're the happiest people in the world!
Sporty – Dope – Style, that's the fastest way to describe a sweater. And since the perk of keeping warm, who on Earth won't be happy if having a sweatshirt on Christmas? 
Inspired by the Pokemon GO theme and the team of Power – Valor team – This style sweatshirt has within it the motivational message to fans who love Pokemon.
Totally an awesome choice to wear and go find the Pokemon on Christmas – Gotta get it now!
Naruto Official Symbol Leaf Village Akatsuki Cloud Uzumaki Sticky Notes
Christmas is the best time of the year when friends and family gather together, share a hot chocolate cup and endless joy. A note for your beloved people how much you care, love them is totally a heart touching gift. In this
 case, the sticky note will be a brilliant choice you can have.
All you need to do is making it a bit more special than just the plain colored sticky note that you can get from any store nearby – A Naruto-themed Sticky Note.
Small, Convenient and show that you really care about their's interest – This little piece of note will bring people closer to each other.
Nowadays, dropping your smartphone is one of the most terrifying moments you have to face daily. Let's cut it off right thereby having a phone case that protects the phone completely.
And in the effort of making the best even better, a phone case with the design of the whole Straw Hat pirates crew. Tell me, One Piece fans can resist this? Of course not!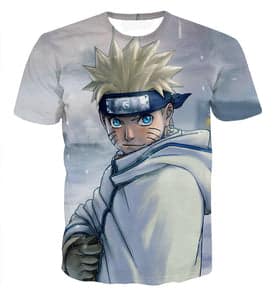 Spring-Summer-Autumn-Winter, no matter which season, a T-Shirt is always an ideal choice. And it's totally not a strange idea of having a T-Shirt as a gift at Christmas.
Just add a little taste of Naruto anime theme and since it's Christmas, the saga of Naruto and his team in the Ninja Clash in the Land of Snow is an absolutely great idea.
Imagine how your beloved one would go WOW and smile happily when opening the package.
One Piece Portgas D. Ace Mera Mera No Mi Ace Fireball DIY Lamp
Christmas days sometimes cold and harsh – Let's warm-up these days with the fire! Of course, not by burning everything in your house.
If you mention "fire" to a One Piece fan – The very first character pop up certainly will be the brave  Ace – The hero with his famous power of Mera Mera no Mi.
The DIY Lamp of Ace holding the bulb as the fireball will make the lucky ones who receives the gift can feel the "heat" of happiness even in the coldest Christmas.
Layering up during Christmas is perfect – But you think it's mainstream to give your Otaku buddy a jacket? No, until it has Attack on Titan theme on!
Simple Design comes with the glowing Japanese styled title of the famous series Shingeki no Kyojin truly brings the spotlight wherever you will go with this jacket on.
Get it and give your buddy a blasting gift this Christmas!
After checking the whole gift list, maybe it's enough of clothing and fashion. Looking for more ideas? Here you go – One Piece Themed Backpack.
Convenient – Spacious, moreover, has on it the symbol of the Notorious Whitebeard Pirate Captain – Edward Newgate, this gift will be the treasure to a One Piece fan.