Summer always seems to pass by in an instant. One minute you're throwing your papers in the air, and the next thing you know, you're stressing about all of the summer reading you have yet to do. But getting ready to go back to school doesn't have to be a total drag — there's always back-to-school shopping to look forward to, and there's one item we always like to start with: the backpack. It's one item you carry almost every day, so you definitely need to love it.
Also for anime fans who love traveling light, the backpacks that 
Just Anime Things
 gonna introduce today are really suitable to help you show your unique style and show your 
Anime
 pride anywhere you go! Here are the 
Top 10 Anime And Manga Travel and School Backpacks in 2023.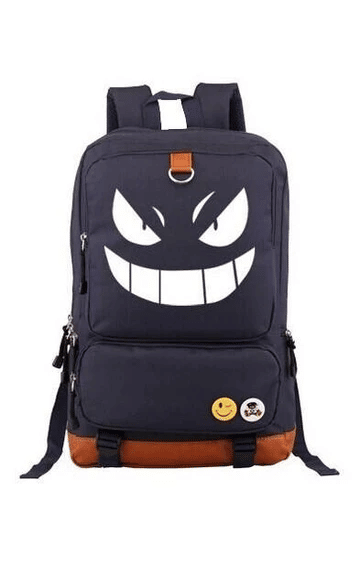 Fans of Pokemon all know this creature: Gengar. He is not only loved for his strong skills but also for his mysterious and mischievous grin. It does give everyone the feeling that "I'm up to no good and you can't stop me". Excitedly creepy!
This backpack is clothing-packed and even has enough room for your laptop. One more special thing is that the image is printed in a special color. You can see Gengar glowing in the dark – dope as hell!
This backpack is an item that every fangirl of Sailor Moon should have. Not only is it trendy but the anime also teaches youngsters some moral lessons, especially about feminism and friendship. We are not able to use a magic crescent wand or spout water, fire, lightning or light beams from our fingers, but we can always look to channel our inner "Sailor Guardians" by finding and unleashing our own "magical powers" and staying true to those we call friends.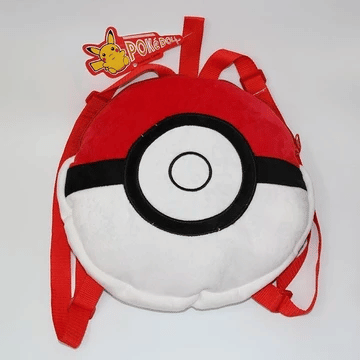 If you want to be a Trainer, the Pokeball is a must-have item used for catching and storing Pokemon. Whenever you capture a Pokemon with a Pokeball, it cannot escape until you release it. Just like that, everything you keep in this Pokeball backpack will be secured!
Keep your items with this bag and you're on your way to become a Pokemon Master!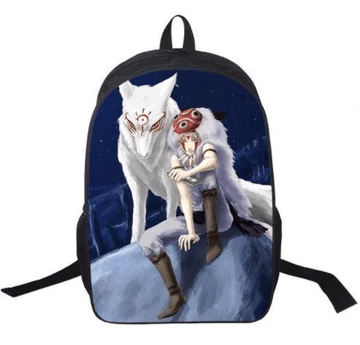 "Princess Mononoke" is a touching masterpiece about the fight between humans and nature. "Do unto others as you would have them do unto you". Nature gives us so many things for free – clean air, clean water, beautiful landscapes, breathtaking views, and the list goes on,… We take so much from nature, but what do we give in return? Destruction.
Let's raise others' awareness of the environmental issue with this backpack. If we continue to overexploit nature, our ending result will be the same as that of those jackasses in the movie.
One man used to say "Don't be afraid of loneliness because everything is a door; even loneliness is a door, it opens to somewhere". No-Face, aka Faceless, is a lonely spirit who begins to follow Chihiro after having developed an interest in her sincerity. He has no friends until meeting the main character and the witch Zeniba, who works alone. No-Face starts spinning and knitting and appears proficient in that. So happy with his new environment, he accepts Zeniba's proposal to stay with her as an apprentice. The two are no longer the loners.
There is obviously no one who can deny the cuteness of this backpack!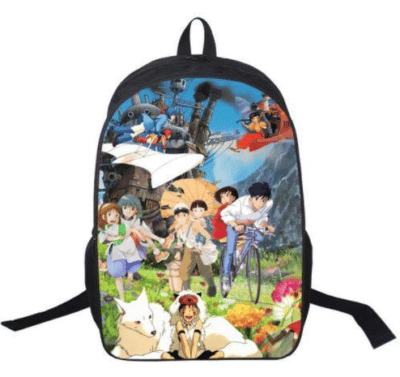 This backpack has a combination of legendary animes of Ghibli: Spirited Away, Howl's Moving Castle, Grave of the Fireflies, etc. If you can list all the anime movies on this bag, you are truly a huge fan of Ghibli and Anime!
Put this backpack on and show the world your PRIDE in this Japanese most famous Studio!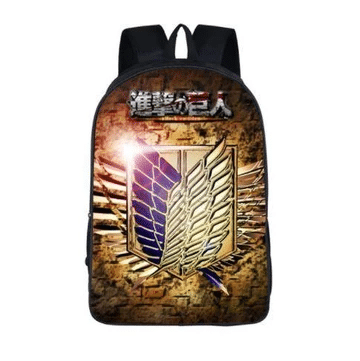 Have you ever heard about the meaning of the Survey Corps' symbol? They have the best soldiers and are the most skilled in using vertical maneuvering equipment. But, despite having little success, they still symbolize the "hope of mankind" with their insignia being known as the "Wings of Freedom". They hope that someday, their efforts will change the world and they will be able to recover what has been taken away from humanity.
Once you put on this backpack, you are carrying the world on your shoulders. Are you ready?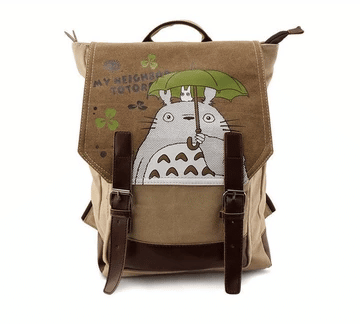 "Adorable, sturdy, and Totoro!" that's what our customer Alexander Misko thought about this Totoro bag as a gift to his lovely niece. "Purchased this for my niece, she's been using it for 2 months now and it is holding up great. The print is very nice and the colors really pop. She always brings it when she goes to school every day! She also uses it as a beach bag for towels, snacks, and various other small objects. Could honestly be for kids, especially for girls!"
Still confused about which gift for your girl? You already know the answer!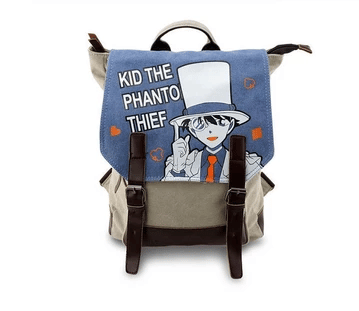 This backpack features The Phantom Thief Kid, who has the real name "Kaito Kuroba". Kaito is a second-year student at Ekoda High School Class 2-B.  Discovering his father's identity as the original Kaitou Kid after eight years following his death thanks to a secret room inside his house as well as talking with his father's attendant and friend, Konosuke Jii, Kaito continues to be Kaitou Kid in an effort to lure out his father's murderers by making Kid a world-famous thief once again.
Lots of Conan fans love him due to his style and personality. If you want something dope for your backpack, then Kaito Kid is already enough to show your instinct taste.
Sakura Kinomoto is just an elementary school student who discovers that she possesses magical powers after accidentally freeing a set of magical cards from the book sealed in for years. She is then tasked with retrieving those cards in order to avoid an unknown catastrophe from befalling the world.
If you are a fangirl who wants to become an angel to save the world just like Cardcaptor Sakura, don't hesitate to choose this one!