One of the reasons that catapult Naruto into the "legendary class" manga and anime series is the message of determination and strong will. It did and will motivate generations of fans to overcome whatever challenges that life throws at them and making dreams come true.
We rounded up a list of Top 10 Exceedingly Best Naruto Tank Top For Gym Goer in 2023 design with Naruto theme that is not only fashionable but also the top choice for your fitness activities.
Kiba and his Inuzuka clan have been making up their reputation by fighting side-by-side with their pets. It won't be exaggerated to call Kiba and Akamaru as the army-of-two.
Not only awesome for your workout section, but this tank top is also an amazing design for the meaning of friendship and animal-loving message.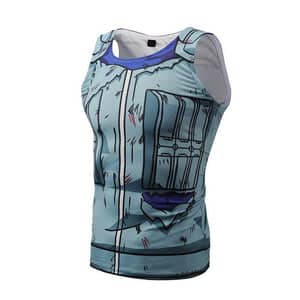 Kakashi is recognized as a prodigy and one of the most talented Ninjas of his generation. Joining the top-dangerous mission and later become the Sixth Hokage.
Definitely, he tank top with the unique design inspired by Kakashi is totally "killing the game" of training.
No Ninja in Naruto's Universe can hide their fear when they heard "Madara Uchiha" – Yes, they should – Since this man is the legendary leader of Uchiha Clan and wielded himself with gruesome power. Wipeout an army just takes Madara a blink to do.
Perfect for your training activity and why not, casual wearing too? This tank top is on Naruto Fans' must-have list!
Awakening the Mangekyo Sharingan brings an enormous power to Sasuke and one of the strongest is Susanoo – The humanoid chakra that can fight and protect on the user's behalf.
There's no doubt about how much this awesome design tank top will motivate you in your running section or reaching a new goal in the gym!
Infamous – Dangerous – Powerful – That's how Akatsuki is described. This notorious yet talented mercenary group live out of the laws and follow their own belief of peace. The Red Cloud becomes such a remarkable yet horrifying symbol throughout the anime.
This compression tank top worth space in your Naruto collection for its strong symbolic meaning and definitely bring you to the whole next level in workout.
No need to introduce much of this inspirational character – Naruto – His journey from zero to hero motivated generations of fans to overcome the challenge and become a better one.
Gear up with not only Naruto's spirit but also his significant uniform in the Shippuden part – Spare a place for this awesome compression tank top and your next gym section will be rocked!
Despite being discriminated by nearly the whole of Konoha but Naruto still keeps for his own exceptional optimism and unlimited motivation. Hat off to this amazing young ninja.
The concept of this tank top goes right into the point of presenting a vibrant and lively but yet determined Naruto. Greatly recommended piece-of-art for a summer day wear or a training section.
After all the struggles and Countless effort – It's such a memorable and satisfying experience when finally we can observe Naruto achieving his dream of becoming the Hokage. The lonely kid of the past now has turned to be one of the most respectful persons – Surrounded by friends and comrades.
Let's this "Nanadaime Hokage" Tank top pumps you up to the max!
Orphaned during the Second Shinobi World War and later trained by Jiraiya – Yahiko a.k.a Pain, later on, had grown up and obtained for himself the tremendous power. The notorious Akatsuki is created and also led by this gruesome Ninja.
Simple design with the monotone color makes this Tank Top an ideal choice for fans to wear casually or fitness time, why not?
On his journey of practicing, Naruto has mastered the Sage Mode – And he also discovered he's the reincarnation of Asura – Sage of Six Paths' son.
Sage Mode offers the overwhelming ability and powers to the users – Welding the tank top with this design will give you a big hand in achieving your new personal record in sports.